In this series, I show you how to find time to write your first book during the semester, even as a parent on a heavy teaching load (3-3 or 4-4). In previous posts, I've tackled some of the pitfalls of planning your time (you don't keep yourself, the doer in mind) and why and how to develop your first container routine. Last week's guest poster also offered advice for stressed parents of young children to get your writing done.
This week, we'll begin implementing your container routine. Doing so involves two principal steps, both of which you should complete before the week begins. (I typically do this on Sunday evening).
Adjusting your container routine (your weekly template) to fit any exceptional commitments in your upcoming week
Filling your containers (both before the week begins and as you go).
Here's how to do them.
Adjust your Container Routine for the Week
Your container routine is your weekly template for how you will spend your time, but you won't always be able to keep your containers exactly the same from week to week. So, you should review what exceptional appointments and commitments will conflict with your existing container routine, and plan around them before your week begins.
Let's say your container routine looks like this: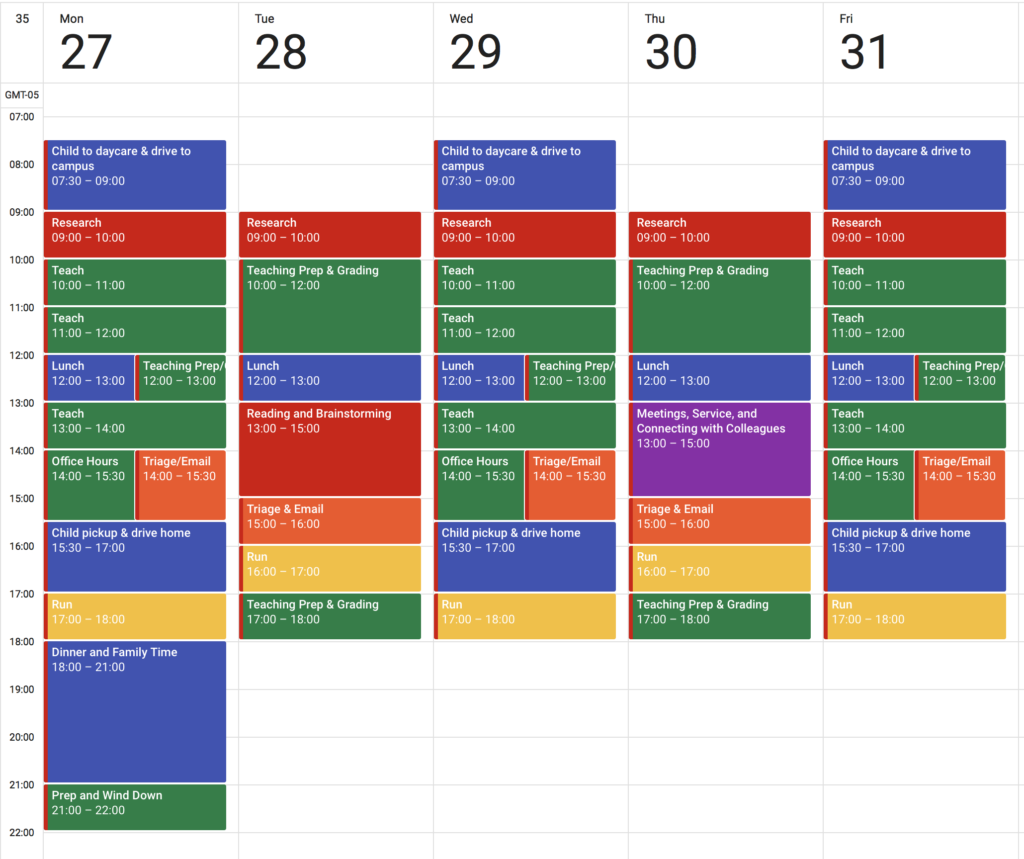 But on Tuesday, you want to grab lunch with a colleague that you know will last longer than one hour. You have a few options. You can:
Block off the lunch from 12-2 and "lose" one hour of your reading and brainstorming time.
Swap your Tuesday reading and brainstorming time with your Thursday Meetings, service, and connecting with colleagues time.
Either way works, but with #2, you keep the same relative number of hours you devote to different types of tasks relatively the same from week to week.
Let's look at a trickier case. You have a committee meeting scheduled for 9am on Tuesday (which will mean commuting both ways) and a departmental talk that afternoon. Here's what I'd recommend: first, put the "conflicts" on your calendar, alongside your container routine, like this:
Then, decide which of the containers are non-negotiable. First, let's move research to immediately following the committee meeting. I simply dragged the container down. If this means you'll be in a different environment than normal, put where you will write on your "container."  Here's what you'll now have:
Now, you might have to get creative. If running is a priority, I might recommend you move it next. You will also have to add in time to change, shower, and get ready, since you're on campus all day. You could, of course, decide to move your run to before your commute. Or you could also run after you get home. But I'm operating under the assumption that most of your non-negotiable commitments need to happen between 8 am and when you get home. Here's what you'd get:
Note that I made the 60-minute running block into a 90-minute block to accommodate the extra steps.
Of course, the beauty of the container routine is that it forces you to decide how you will make time for your priorities and that it shows you, precisely, where your priorities can go. If you don't want to prioritize running on that day, then you can delete it!
Now, two main things stand out to me: 1) you need to eat at some point; 2) teaching prep and grading are taking a big hit. So, I'd recommend shifting lunch later, and probably double-book it (bring a lunch to campus!) with teaching prep and grading. I'd eliminate the reading and brainstorming block altogether, especially if you're teaching many new courses. Note that this is not good advice if you're at a research-intensive institution, or if you're teaching mostly repeat preps. Here's what you'd be left with:
Only you can say whether this revised schedule for that day fits your priorities or not. If, after looking at it, you decide it doesn't fit, feel free to move things around again!
But I hope this example has shown you how you can make time for everything that's important to you.
Pre-Filling Your Containers Before Each Week
After you've modified your container routine to accommodate exceptional meetings and appointments, you will now move on to "pre-filling" your containers.
This involves making a list of all the tasks you have (or want) to accomplish, primarily in the areas of "teaching," "research," and "service." Let's start with teaching.
Make a list of:
What materials (presentations, handouts, activities, rubrics, assignment directions, tests, etc.) do you need to draft or revise this week? Note that in my sample container routine, my first "Teaching/Prep" block on Monday is actually after my first class. So, for the purposes of this exercise, my "week" is Wednesday through the first teaching day of the following week (normally Monday). Here's an example:
What graded assignments will students turn in this week, and when do you hope to have them returned? Here's another example:
Note that because this is the first full week of classes, it's extremely light on grading. This actually means I can probably repurpose time toward prepping ahead in my classes, to pre-emptively balance out my time on weeks when I have significantly more grading. (Remember when I talked about the container routine helping immensely if you feel like how you spend your time varies drastically from week to week? This is it!)
You can "pre-fill" your containers in a number of ways. If you use Google Calendar, you can click on the "edit" button to add the tasks in the description, like this: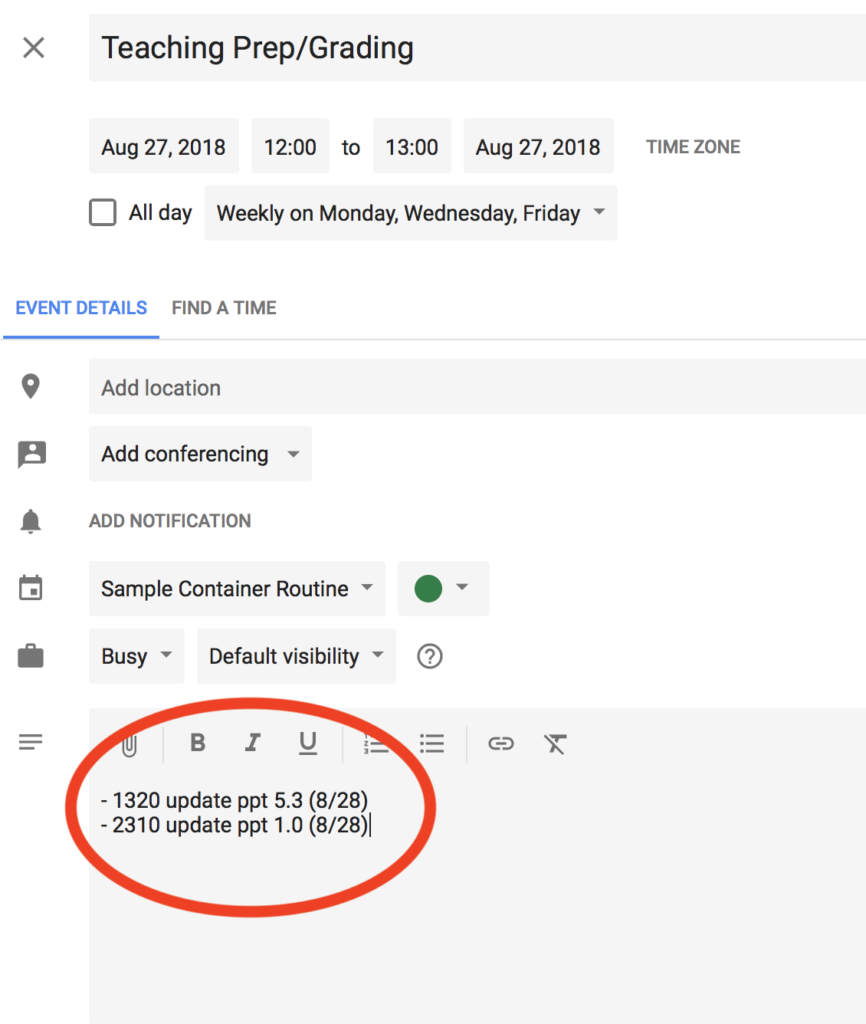 Or, you can modify the title of the event itself.
Either way, if you have used the "repeated" events feature on Google Calendar, you will always be asked whether you want to modify the event for "all events" or just "this event," which can be a bit of a hassle. Always choose "this event."
As you fill in your containers, be realistic with the amount of time the tasks will take. Do not set yourself up for failure.
Be sure to add assignments to grade as they come in (but not before!).
In filling the containers for the week, I estimate I will have finished all of the tasks by the end of Wednesday's prep and grading session.
This is great news! I can then spend Thursday and Friday's teaching containers to prep for the following week.
So, I will repeat the same process of making teaching prep task and grading lists for the following week (the following Wednesday through the Monday after), and then fill my Thursday and Friday containers with what I can get done of those.
Doing so will mean that I will be able to spread my workload more evenly across the semester.
To fill your research "containers," follow the guidelines I propose in my post on conducting a weekly writing review.
And to fill your "service" or other containers, simply make a list of actionable items.
Your Turn
What questions do you have about implementing your container routine each week? Or, what about this framework seems like it might work especially well for you? Let me know by email!
✕
Humanities First Book Author Inner Circle
Writing your first academic book in a humanities or qualitative social science discipline? Wondering how to manage such a large project? You don't have to struggle alone! Sign up, and I'll send you resources and advice to help you get a handle on your manuscript, find the best publisher, and develop productivity habits to get the book done.