What is Scrivener 3?
Scrivener is word processing software published by Literature & Latte. It is unique in that the entire "project" is a file, and within the project, you can write drafts and store documents. You can think of your "project" as a folder that has all your writing in one place, and that you can organize and hierarchize. This makes it the best word processor for academic writing.
Scrivener 3 vs. Word (or other Word Processing Software)
Do you find that your academic writing projects extend across multiple documents? Do you regularly have multiple Word documents and PDFs open when you write your drafts?
The main difference between Scrivener and Word is that Scrivener has built-in attention to both structure and content, while Word (or other word processing software) just allows you to type documents. In Scrivener, each piece of writing is a "project." You can keep everything–including academic articles– inside of the project itself. Scrivener's overview video really sums this up nicely. (Video not displaying? Watch it on Vimeo).
This attention to structure and content makes Scrivener 3 the best word processor for academic writing.
What Makes Scrivener Awesome for Academic Writing?
Built-in attention to structure and content. For me, this makes Scrivener 3 the clear winner over word. I usually jump around a lot when writing academic articles and books. I tend to switch between drafting new material and organizing what I've already written. Scrivener 3 allows me to easily switch between drafting and organizing modes.
My writing feels less linear and lower stakes. I tend to produce a LOT of drafts and need to "write through" my ideas to figure out what I'm trying to say. When I write in Scrivener, the drafts I produce feel lower stakes than when I write in Word.
Corkboard View. When you select multiple pieces of writing, you can choose to see them as one continuous document (like you'd see in Word), or as notecards on a corkboard. Dragging and reordering the cards moves around your text. So you never have to copy and paste multiple paragraphs again to reorganize your draft! This feature makes Scrivener awesome for academic writing, because you can simply drag a notecard from one spot to another, and Scrivener will automatically reorganize your draft.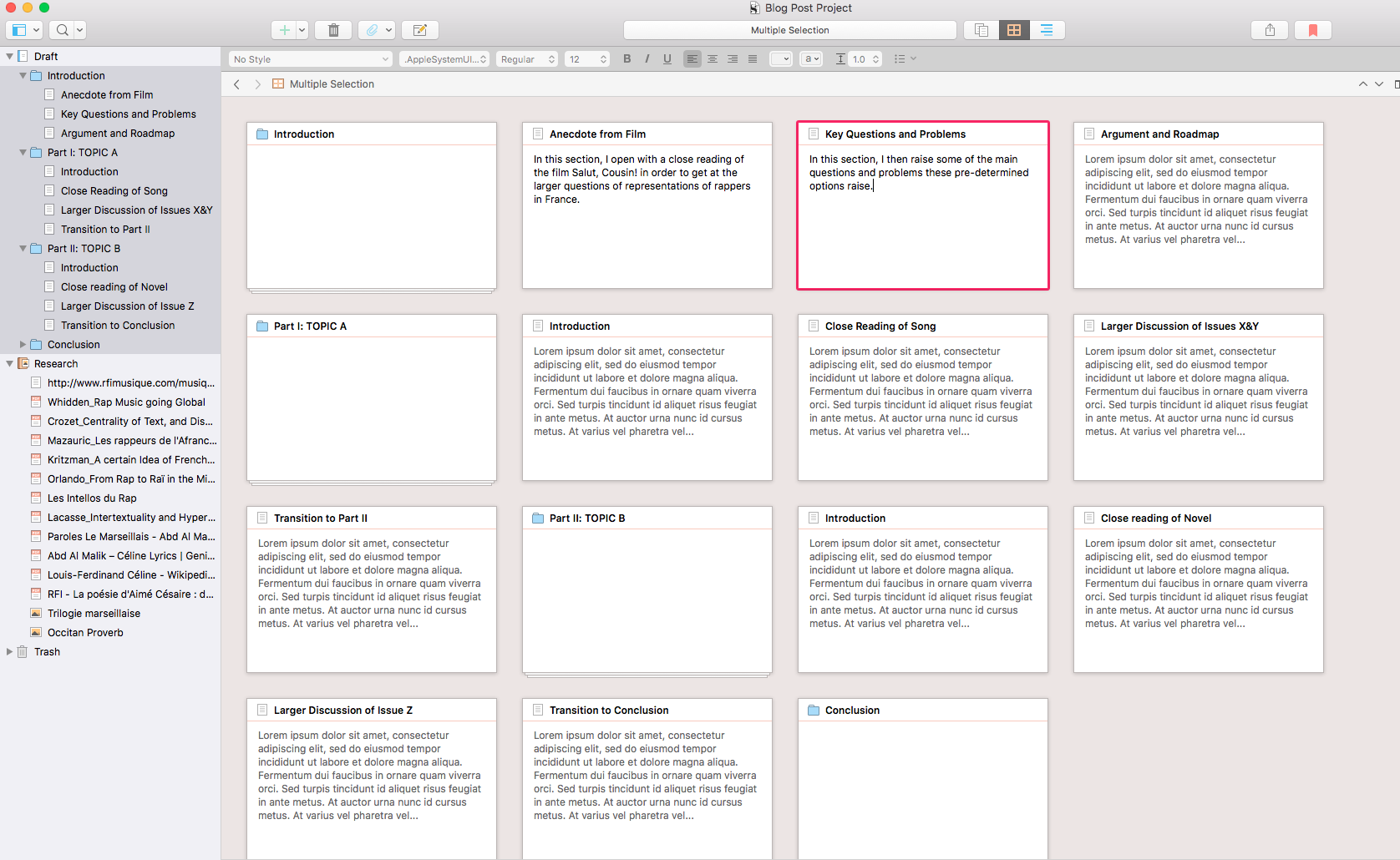 Splitscreen View. By far one of the best features of using Scrivener for academic writing is splitscreeen view, meaning that you have two "documents" open side-by-side in your editing window. I find this extremely useful when quoting from primary or secondary sources, and when referencing my other writing.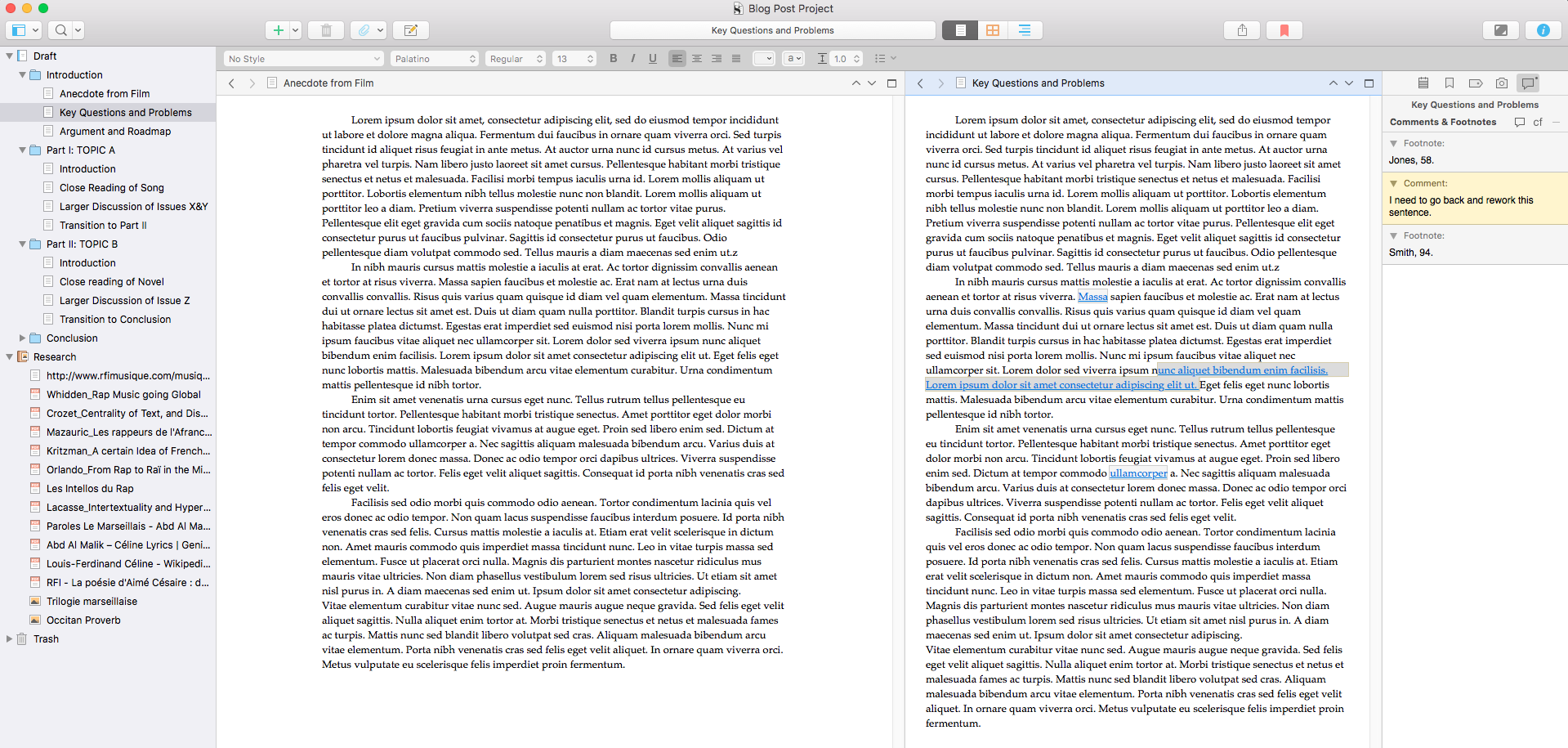 Composition Mode. Ever wished the world would disappear so that you could focus better? Try out Scrivener's composition mode for academic writing! It takes away everything from your desktop (including the time and any pesky notifications), leaving only you and writing.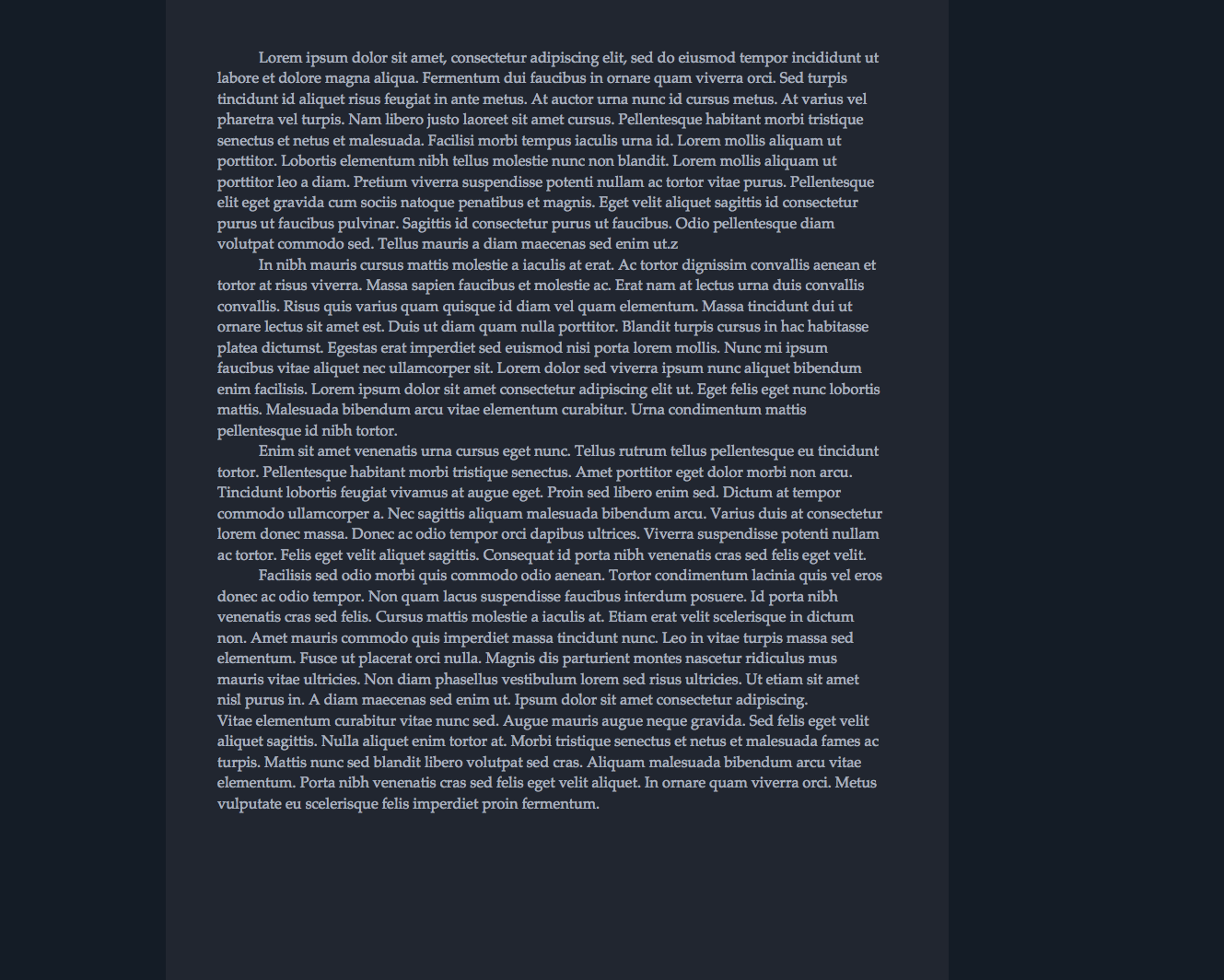 Word Targets. Do you find setting and meeting word-based goals rewarding? Or, alternatively, do you struggle to stay under your maximum word count? Not only does Scrivener always display the word count of individual documents, but its "Word Target" feature gives helps you stay on track. In a Scrivener 3 vs. Word head-to-head comparison, this feature makes me do all my drafting in Scrivener!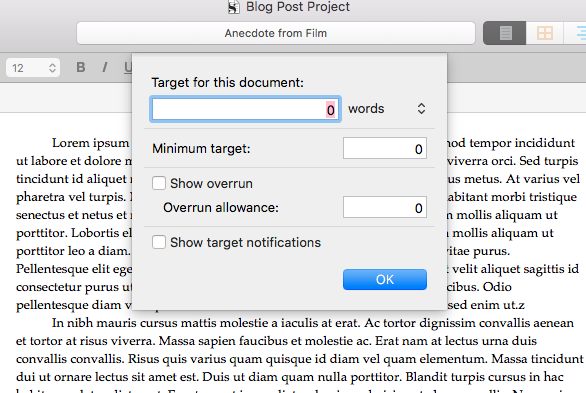 Keep all your documents in one place ("Research" Folder). All new Scrivener projects, by default, contain a "Research" folder where you can drag and drop documents and images. This means that you always have all of your relevant documents (articles, webpages, etc.) on hand. Never again will you have to search through your computer to find the article you want to cite!
The app version syncs across all my mobile devices (iPhone and iPad). Do you have frequent small chunks of time and wish you could work on your academic writing? Do you have ideas but not your laptop or computer? The Scrivener app syncs your writing across all your devices. So, you can add text on your phone, and have it there when you open the project on your computer!
Scrivener 2 vs. Scrivener 3 for Academic Writing
Is Scrivener 3 worth the $25 upgrade from Scrivener 2? Yes. Here's why:
Lock Screen in Place. Do you sometimes accidentally switch the wrong document in splitscreen view? In Scrivener 3 you can lock one or both of your documents in place.
Linguistic Focus (Edit > Writing Tools) allows you to selectively grey out all but certain parts of speech. It's like a built-in version of Helen Sword's Writer's Diet Test (a companion to her book, The Writer's Diet) that shows you where your writing is too dense. Use Scrivener's linguistic focus to follow her principles of strong and engaging writing, without having to leave Scrivener! See what it did when I highlighted adjectives, nouns, and prepositions in one of my projects. (It looks like I might have to tackle some nouns soon!).

Split already split editing windows. Now, you can have up to four documents open at once, instead of just two.
Easier to use Quick Reference Panes. Quick reference panes "pop" your research or other document into a floating window. With Scrivener 3, there is a quick reference pane button in the top bar, which you can either drag documents onto, or click if the document is highlighted.
A Few Limitations of Scrivener 3 for Academic Writing
After finishing an article or chapter, instead of using Scrivener's built-in "compile" feature, I usually simply copy and paste my text into a Word document for final formatting. In my experience, Scrivener's "compile" function adds goofy formatting.

I use Endnote as my reference manager, and Scrivener is not currently able to format Endnote citations. I simply insert the unformatted citations into my footnotes. Then, I format my notes and bibliography once I am at the point of finalizing my Word document.

The Scrivener app is still very limited compared to the full program. Splitscreen, for instance, is still possible, but difficult in the app.
Sometimes, I encounter syncing errors when opening the same document on multiple computers. Scrivener, though, always alerts me to the issue, and saves any documents that are different in a special "Conflicts" folder.
Where to Get Scrivener (including a Scrivener 3 Education License)
Literature & Latte also has an extremely generous trial offer: you can download the software and use it for free for 30 days. Click on the "download trial" button on this page.
Still have questions about Scrivener, or want to hear more about how I use it to do certain things? Leave a comment or email me!
✕
Humanities First Book Author Inner Circle
Writing your first academic book in a humanities or qualitative social science discipline? Wondering how to manage such a large project? You don't have to struggle alone! Sign up, and I'll send you resources and advice to help you get a handle on your manuscript, find the best publisher, and develop productivity habits to get the book done.